My name is Jon Carnes.
Welcome to my web site. If you have any comments, please feel free to share them with me!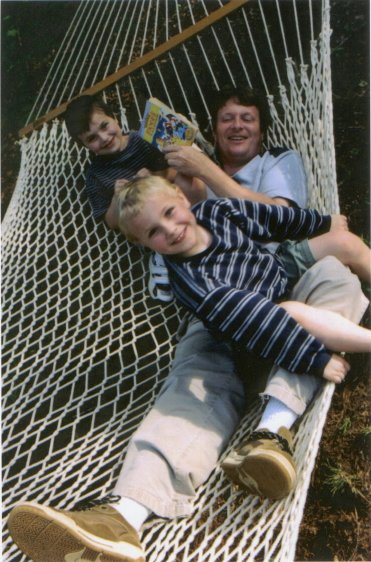 Reading Manga out in the Hammock
The boys have a serious addiction to Anime.
... and to hammocks. Fall 2006
I am a computer/networking/telephony guru with a degree in Physics from NC State University. I am currently buried in a rapidly growing startup company called FeatureTel where I spend long nights worrying over a vast infrastructure of Cisco routers, Sun servers, and Linux boxen running Asterisk. I spend the rest of my hours worrying over two fine young boys named Christopher and Daniel.
Chris is currently 12 and really into Pokemon, and any other Anime you can name. Dan is currently 10 and is more into Calvin and Hobbs - though he won't back down from a poke-battle or a bakugan duel. The boys favorite anime are the films by Hayao Miyazaki: Spirited Away, Howl's moving Castle, Nausicaa, ... The boys are also working hard at earning their Black belts in Tae_Kwon_Do (one more belt to go!). They have a great instructor in Salim Oden.
Some pictures from our hike in the Asheboro Zoo (Aug 2008)
Some early pictures of my sons, Christopher and Daniel.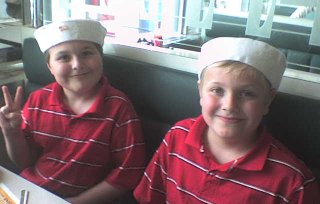 A long time back I used to rescue animals and help rehabilitate them but that was before the kids came along. I still have a few rescues as pets. They all have unique stories that make them very special and well loved. If you know of a stray in need of rescue - or want to partner up with a new dog or cat, I highly recommend looking up Second Chance: an organization that rescues strays, fixes them up, and then finds them new homes.
FeatureTel (my current work) is a VoIP company based in Raleigh, NC. We specialize in providing businesses with phone service, but we also provide Residential service for folks who use FeatureTel in their business. We primarily like to sell Hosted VoIP service to businesses. In a hosted model, we drop a T1 directly from FeatureTel to the customer. Then we give them both Voice and Internet-data across that connection. The phones run directly on the local network (or any network with internet access). The cost is surprisingly low and the clarity of the Voice is better than anything else on the planet.
My specialty is Network design which includes QoS, High Availability Systems and VPN's but I also do a lot of ordinary Systems work and LAN/WAN design and troubleshooting. I've setup and helped to maintain several small ISP's (mail systems, web-servers, news-servers, database engines, security, authentication, FTP, and log reporting tools). Additionally, I used to help businesses move systems and applications over to OpenSource alternatives (firewalls, file and print servers, authentication services, network monitoring, business/office applications, and network filtering). I'm also a fairly good Python programmer and I've helped out a few Open Source projects in the past.
I am a big proponent of using Linux and OpenBSD in the workplace, especially for QoS/Bandwidth-shaping, Firewalling, site-to-site VPN's, and Load Balancing services within a DMZ. Red Hat linux is one of the most reliable Operating Systems in the world, and it comes with a set of tightly integrated applications and services designed to easily setup and run a corporate infrastructure. OpenBSD is one of the most secure Operating Systems in the world, and it comes with built in encryption, fail-over, and VPN capabilities (IPSec) - perfect for use as a firewall or VPN endpoint.
I've also grown (quite grudgingly) into a Cico guru. FeatureTel's infrastructure is based on Cisco's finest hardware, and we deploy Cisco routers and switches at our clients. These help us maintain crystal clear voice quality for our VoIP implementations.
Feel free to check out my resume - last updated in March of 2003. It doesn't show my consulting work, but it does show that I can keep a variety of systems up and running and make *anything* work consistently.
I'm a fairly open (source) guy, so if any of the above strikes your fancy - or you want to put in a special request for something - drop me a note, share your POV: jonc at nc . rr . com .
My Rant on tolerance inside the Open Source TriLUG community...
---
Link to Bandwidth Shape script for rate-limiting a Linux boxes network access. This is useful for reserving limited bandwidth for VoIP or other services.
Link to the Asterisk (VoIP) talk I gave to TriLUG with Paul Levering on Jan 9, 2004. Unfortunately it's just the outline of the talk - Asterisk an Open Source PBX for use with VoIP
Link to scripts I wrote for setting up a pair of servers: one a Master, the other a Failover Slave - last updated December of 2003. All the scripts run from the slave server - Scripts for setting up a Slave (Fail-over) server
Along with the Failover scripts, here is a short overview for Disaster Recovery planning (I've written a couple of DR Plans and, so far, only had to use pieces and parts) - Disaster Recovery Overview
Setting up SSH to login to a server using an RSA key rather than a password - This is a handy part of the Server Failover scripts - Automated SSH logins
I served on the Open Source panel at the 2003 CIO conference in North Carolina in November of 2003. As part of the panel I was given 15 minutes to present an Open Source case study. I choose the case of a Mail Server install from a client with approximately 2000 users - Quick case study of a Mail Server cluster with Anti-virus and Spam filtering
Link to setting up a Mandrake Linux v9.1 server as a Certificate Authority (CA) from July of 2003 - Step-by-step Setup of a Certificate Authority in Mandrake 9.1
Link to the NFS talk I gave for the RHCE TriLUG class in 2003 - NFS/NIS/Automount in Red Hat 9
Link to the Mail Server class I taught for TriLUG in 2002 - How to Setup a Mail Server using Sendmail in Linux
Link to the TriLUG talk I gave on Linux Boot Processes - How to limit processes from starting automagically when you boot your server. Oddly enough the information in this HowTo from Aug of 2000 is still fairly up-to-date, though the addition of the "chkconfig" utility makes this task much faster.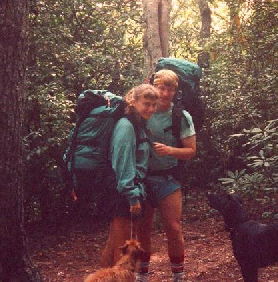 Hiking in the wilds of Virginia before Christopher and Daniel were born.
---
Books I'm currently reading...
I'm currently reading Treason's Harbour book 9 of Patrick O'Brian's series about Jack Aubrey (much better than the movies). A friend pointed out that the Aubrey character is very like Star Trek's Capt. Kirk - the take-charge Renaissance Man, skilled at command, and master of his own destiny. If so, then this is a more intimate picture of that kind of character - a peak behind the archetype. A fascinating glimpse of the man within the Commander.
The kids have stalled out on the Charlie Bone series by Jenny Nimmo...mostly because all the books are checked out of the library! But also because they have really gotten into the "Kindom of Hearts" series. I've only glanced through them myself, but the boys love them. The books have lots of references to cultural icons (cartoon characters) that they instantly recognize, and the kids love the parallels between the traditional roles and the roles of the characters in the books. I simply marvel at the number of copyrights that must be involved with each story...
---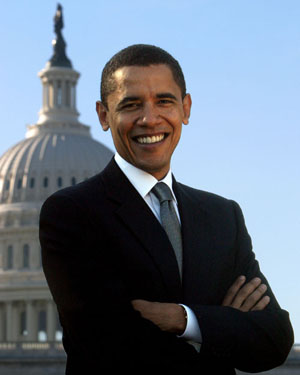 And so even though we face the difficulties of today and tomorrow, I still have a dream. It is a dream deeply rooted in the American dream.
I have a dream that one day this nation will rise up and live out the true meaning of its creed: "We hold these truths to be self-evident, that all men are created equal."
I have a dream that one day on the red hills of Georgia, the sons of former slaves and the sons of former slave owners will be able to sit down together at the table of brotherhood.
I have a dream that one day even the state of Mississippi, a state sweltering with the heat of injustice, sweltering with the heat of oppression, will be transformed into an oasis of freedom and justice.
I have a dream that my four little children will one day live in a nation where they will not be judged by the color of their skin but by the content of their character.
I have a dream today!
- Martin Luther King, Jr. August 28, 1963